Username:
papag
First Name:
Mike
Last Name:
Stone
Icon:
Member Since:
03/12/11 05:43 AM
Last Login:
04/05/13 09:27 AM
Profile Views:
2161
City:
Wichita
State:
Kansas
Zip:
67212
Country:
USA
Website:
Interests:
Wife and Kids and Grandkids. Woodworking, Gardening, Landscape.
Really Really like fishing
Love Fly fishing in trout streams
About Me:
Retired USAF in 2000.
My boat is a G3 176
Favorite Fish
to Catch:
Bass, Crappie, Walleye, Wiper
Favorite Type
of Fishing:
All
Water Type:
Freshwater
Favorite Lures:
Too Numerous
Fishing Rods:
Mostley Med Action.
Mr Crappie Slab Shaker 5'6' & 12'
Fishing Reels:
Both spin and Bait castand Bait.

Fishing Techniques:
Trolling
Fipping
Waiding with jerk bait

Favorite Fishing Spot:

Flag Profile:


Name
Details

Map It

KDOT West Pre Spawn
Avg. Rating: 4
# Reviews: 1
Views: 1966
KDOT west, Wichita
3/29/2012

Jiggin around the shore line after 5:30 before the storm came through.


Map It

---

Sedgewick Park (Z00)
Avg. Rating: 4
# Reviews: 1
Views: 1883
Sedgewick Park, Wichita, Ks
3/28/2012

Continueing the local Park circuit. Early evening prespawn fishing for bass. No luck with crankbaits. Rubber worms at a slow crawl or jig worked really well.


Map It

---

Watson Park, Pre Spawn
Avg. Rating: 5
# Reviews: 1
Views: 1986
O.J. Watson Park
3/27/2012

I decided to try out the local (city) park fishing holes and began with Watson Park. My step son Rusty, his friends Sticks and Dalton were there (they grew up fishing this park.) Jigging and Rubber worms were killing them. Also saw 2 nice Wipers taken only 30 feet away. I didn;t know Wipers were in this size lake. Had a great afternoon!


Map It

---

This user has created 3 trips
| | | |
| --- | --- | --- |
| | Mike Stone's Latest Mapable Trips | |
Below are the last 3 "mapable" trips this user has plotted.


| | | |
| --- | --- | --- |
| | Mike Stone's Trip Statistics | |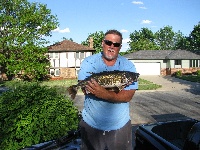 Afton Walleye, 5/3/2010
My 1st Walleye, 26 3/4" on a minnow and ultralight with 4 lb test


Avg. Rating: 4

# of Ratings: 1

03/03/12 04:40 PM
User has 1 photo in their collection.
No messages yet. Be one of the first to send this user a message.

Send Mike Stone a message
Mike Stone's Current Rank:


Baitfish Rank
With 8 Total Points

How are ranks determined?


Below is where we list statistics for the number of reviews, comments, message board posts, etc. that this user has posted on all the Fish Finder sites. The higher total overall points a user has, the higher the user's ranking.


Total Trips:
3
Total Photos:
1
Total Hotspots:
3
Total Trip Reviews:
0
Total Trip Comments:
0
Total Location Reviews:
1
Total Location Comments:
0
Total Locations Added:
0
Total Locations Edited:
0
Total Message Board Posts:
0
Total Species Comments:
0
Total Species Recipes:
0
Total Species Edited:
0
Total Amenities Added:
0
Total Amenities Edited:
0

---

Total Overall Points:
8

---

Find location reviews by papag